Cosy accommodation in pensions
The Jedľa and Céder Pensions are identical in terms of their architecture, number of rooms and their layout. Both pensions have 11 rooms and 2 apartments with total capacity of 35 beds situated on 3 floors. You can choose accommodation in Twin Rooms or Double Rooms, Triple Room, Family Room and spacious loft De Luxe Apartment.
The accommodation in pensions is situated in a beautiful nature of Liptov, with great accessibility to neighbouring locations – Donovaly, Low Tatras or Liprovský Mikuláš are just steps away. Our guests in Gothal resort can take advantage of Water worldwith wellness, gym, Vlnka restaurant, Koliba Liptov, kids´ corner, sport and other activities. In winter months, they can also use the ice rink in Gothal with the opportunity to rent skates. All of which is just few steps away from pensions. You will fall in love with Liptov in Gothal.
Each room has hallway, own bathroom with toilet, cable TV and WIFI connection
You can choose one of five types of rooms: Twin Room, Double Room, Triple Room, Family Room and De Luxe Apartment
All rooms can be flexibly arranged to have 2 single beds or double bed configuration based on requirements of guests
Rooms do not offer the option of extra beds (only De Luxe Apartment has the option of extra bed)
Pets are not allowed in pensions
Each pension has a lockable storage room on the ground floor to store skis or bicycles
Accommodated guests can use own parking in front of the resort
Check-in – at reception in Koliba Liptov
Upon arrival visit our reception in Koliba Liptov where you can check-in.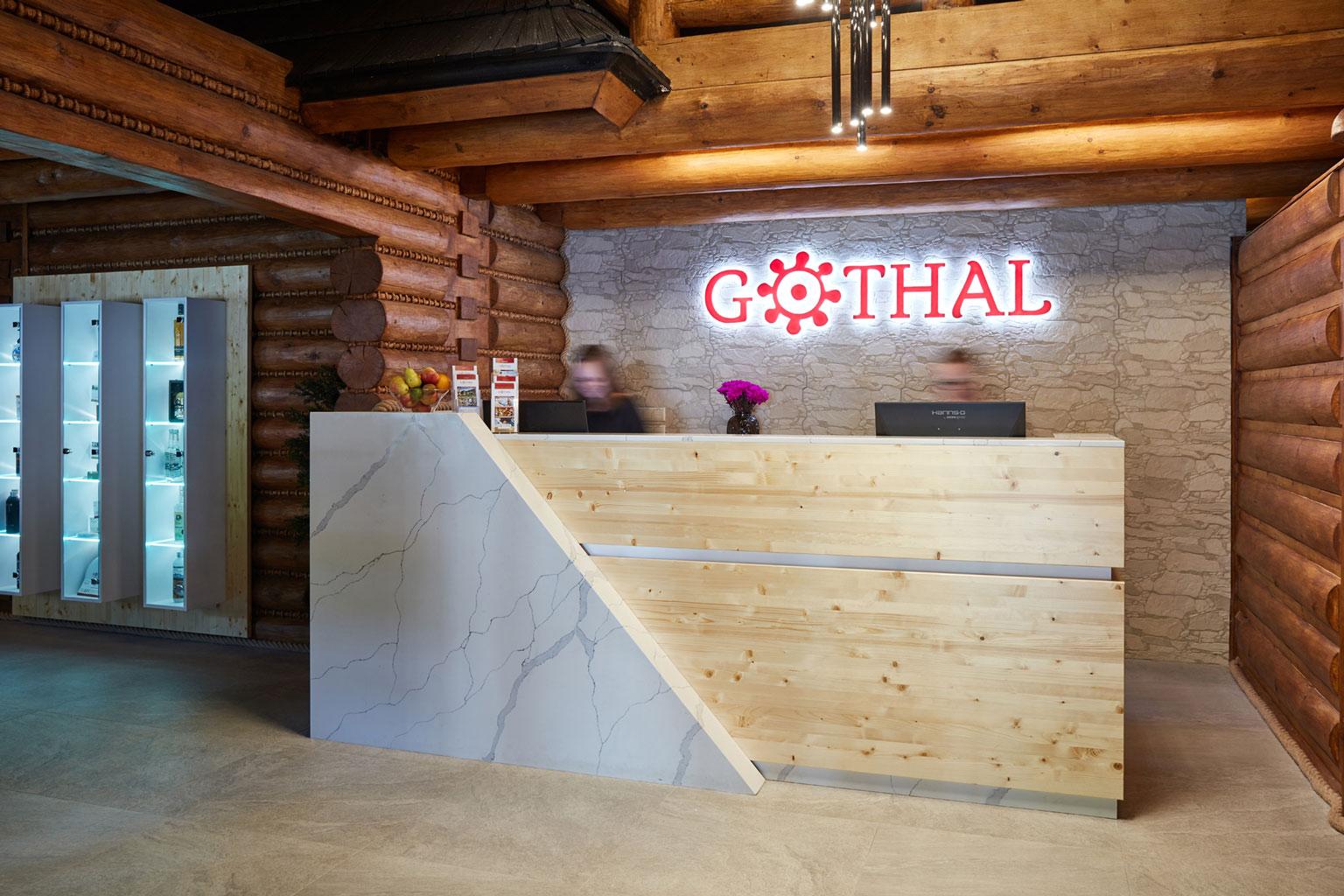 Reception is in Koliba Liptov. You will find your particular room in Jedľa and Céder Pensions opposite across the road after check-in.
Jedľa and Céder Pensions are located on the left side of the main road in direction to Liptovská Lúžna, directly opposite to Koliba Liptov, directly next to chalets.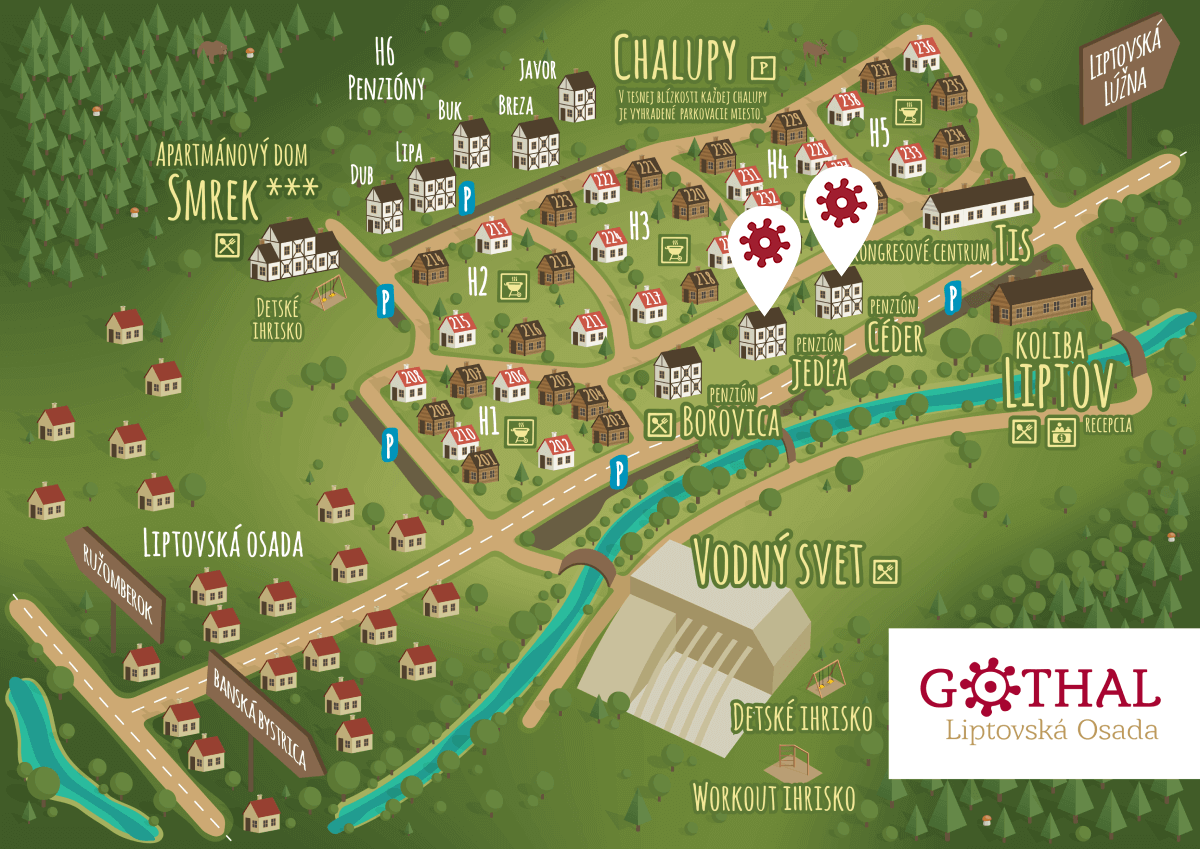 Food delivery to pensions
Breakfast delivery to rooms or apartments
Do you love to have breakfast in your pyjama in living room with your family? Enjoy it the same way also in Gothal! We will deliver the breakfast basket full of salty or sweet delicacies to your room or apartment. You can simply order the service by phone or in person at the reception in the Koliba Liptov.
If you are planning a longer stay in Liptov, choose from our offer of special packages.
Get a PARK SNOW Card from us!
If you decide to stay in the Apartment house SMREK more than one night we offer you a possibility to get a discount card PARK SNOW Card. You will get the possibility to use services around at discount prices.
You can get the card directly at the reception desk and the issuing is charged by € 2.90*.
Benefits of PARK SNOW Card in Gothal
10% discount valid on days: Monday - Thursday for the following services:
Experiential wellness for two, Relax time for two
2 hour entry "pools"
3-hour entry "pools and saunas", advance entries and family packages
Fitness with a climbing wall
Floating
Golf simulator
Ferrata set rental
Discounts are valid during the Summer Season 2020 (June 1, 2020 - October 31, 2020) with the expectation of Friday, Saturday and Sunday and dates: 1. 5.-3. 5., 7. 5.-10. 5., 28. 8.-1. 9. and 11. 9.-15. 9., 29.-31. 10.
PARK SNOW Card winter – valid from 1. 12. 2019 to 31. 3. 2020
PARK SNOW Card summer – valid from 1. 6. 2020 to 31. 10. 2020
For more information about PARK SNOW Card, please visit www.parksnowcard.sk