Whether you are coming from wellness, from ski slopes, from Water world or you are just passing by Gothal resort, you are warmly welcome in our new Koliba Liptov. If you turn from the main road between Ružomberok and Donovaly in Liptovská Osada to Gothal, you will not regret this stopover. You will enjoy the comfort and lure of the surrounding also thanks to its architecture in wooden style with traditional decorations and ornaments which are characteristic to Liptov in an original combination with modern interior features.
But you will mostly enjoy our traditional Slovak specialties such as ram goulash, deer steak with celery puree, veal cheeks with mashed potatoes, roasted boar with red cabbage, dumplings with lamb meat, potato dumplings with poppy and yeast pastry with vanilla cream.
Koliba Liptov divided into sections
In order to get a better idea of the capacity of our Koliba, here is a brief overview of individual sections of the restaurant.
Total capacity of the Koliba Liptov: 250 seats
230 seats on the ground floor
15 to 20 seats in meeting room Liptov on the floor (more info about the meeting room coming soon)
Divisions of Koliba: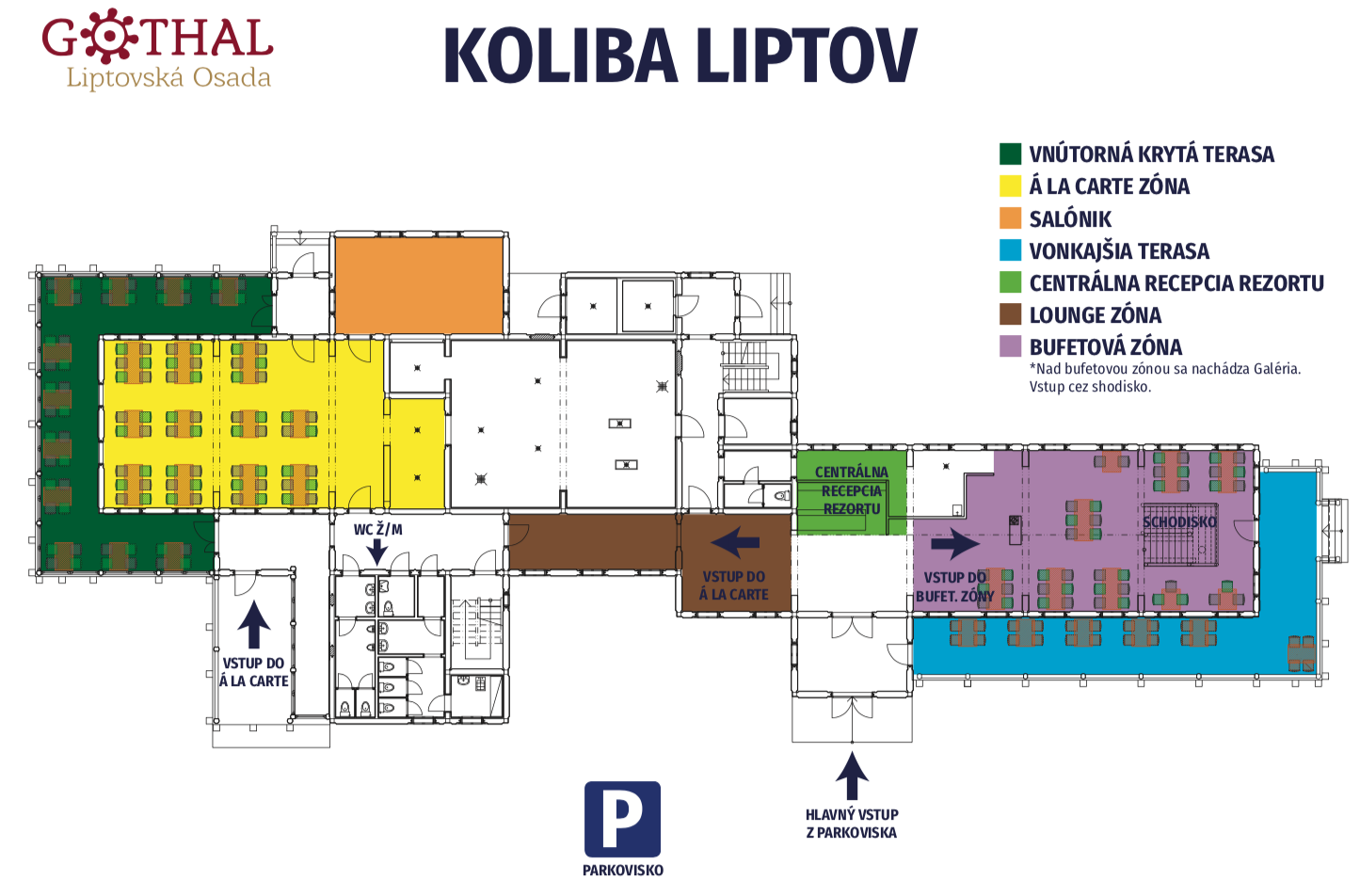 Á la carte zone private terrace
Buffet zone
Lounge zone
Private lounge
Gallery
Outside summer terrace
Á la carte zone
Capacity: 58 seats interior part + 44 seats on indoor terrace
Use: serving á la carte food + events: wedding, family celebrations, graduation celebrations, company events
Opening hours: 7.00 – 22.00
Á la carte: 12:00 – 18:00
We will never have enough of your visits. We will gladly welcome all non-accommodated by-passing guests within opening hours in this section.
If you are planning any event, we are ready to host it. It is entirely upon you, if the whole event will take place inside, on a private terrace or you will also use the outside area, where you can have a barbecue, you can prepare smoked food or cook a goulash for a group with Chef. The area between Koliba and the stream is an ideal choice if you want to add a pinch of experience.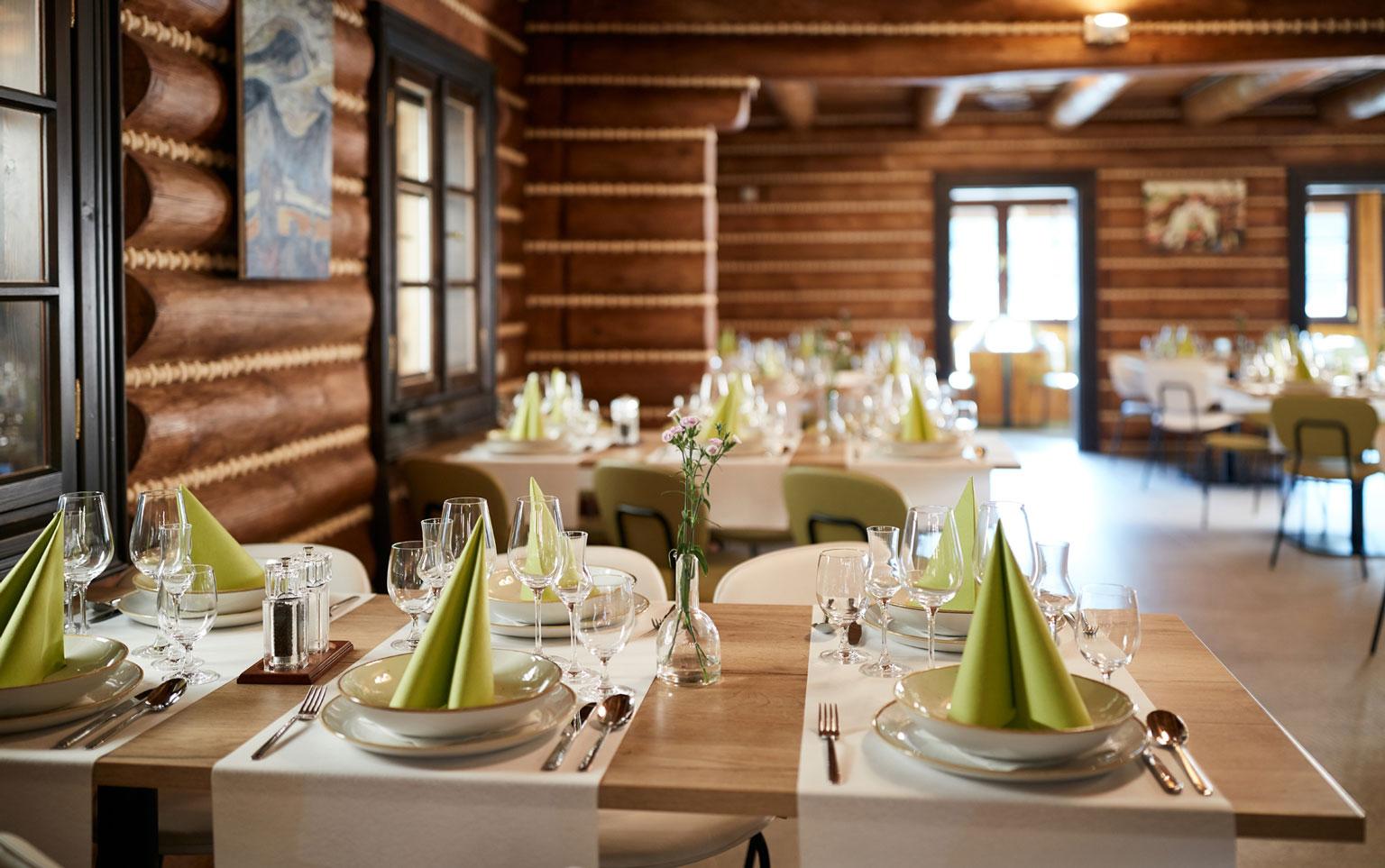 Buffet zone
Capacity: 44 seats
Use: serving breakfast, lunch and dinners in a buffet style for accommodated guests
There is a fire place and buffet tables, which serve to our accommodated guests from morning to evening.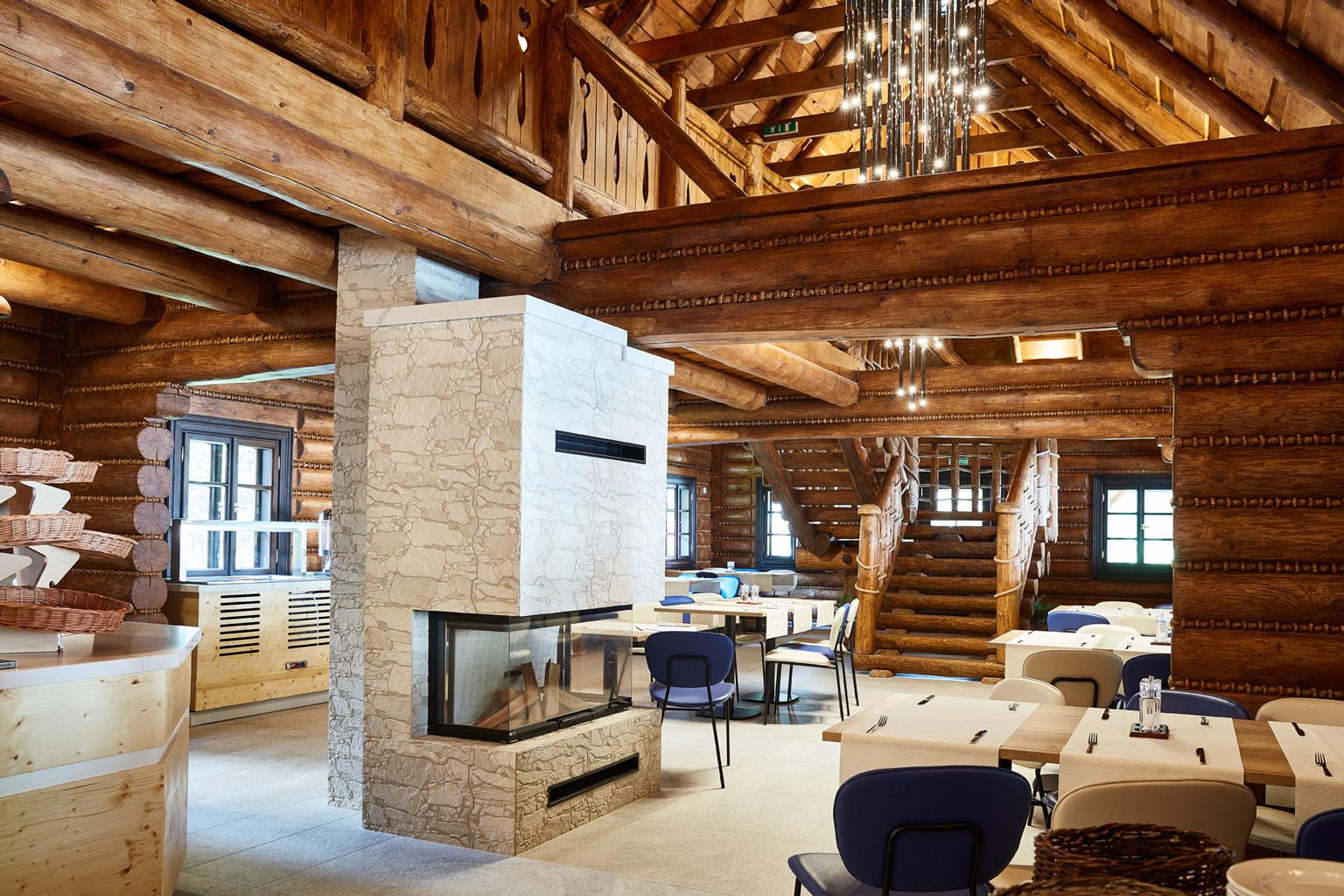 Lounge zone
Capacity: 6 seats
Use: short business meeting
This comfortable zone close to the reception will let you hold a short business meeting and manage urgent business matters flexibly also during your vacation.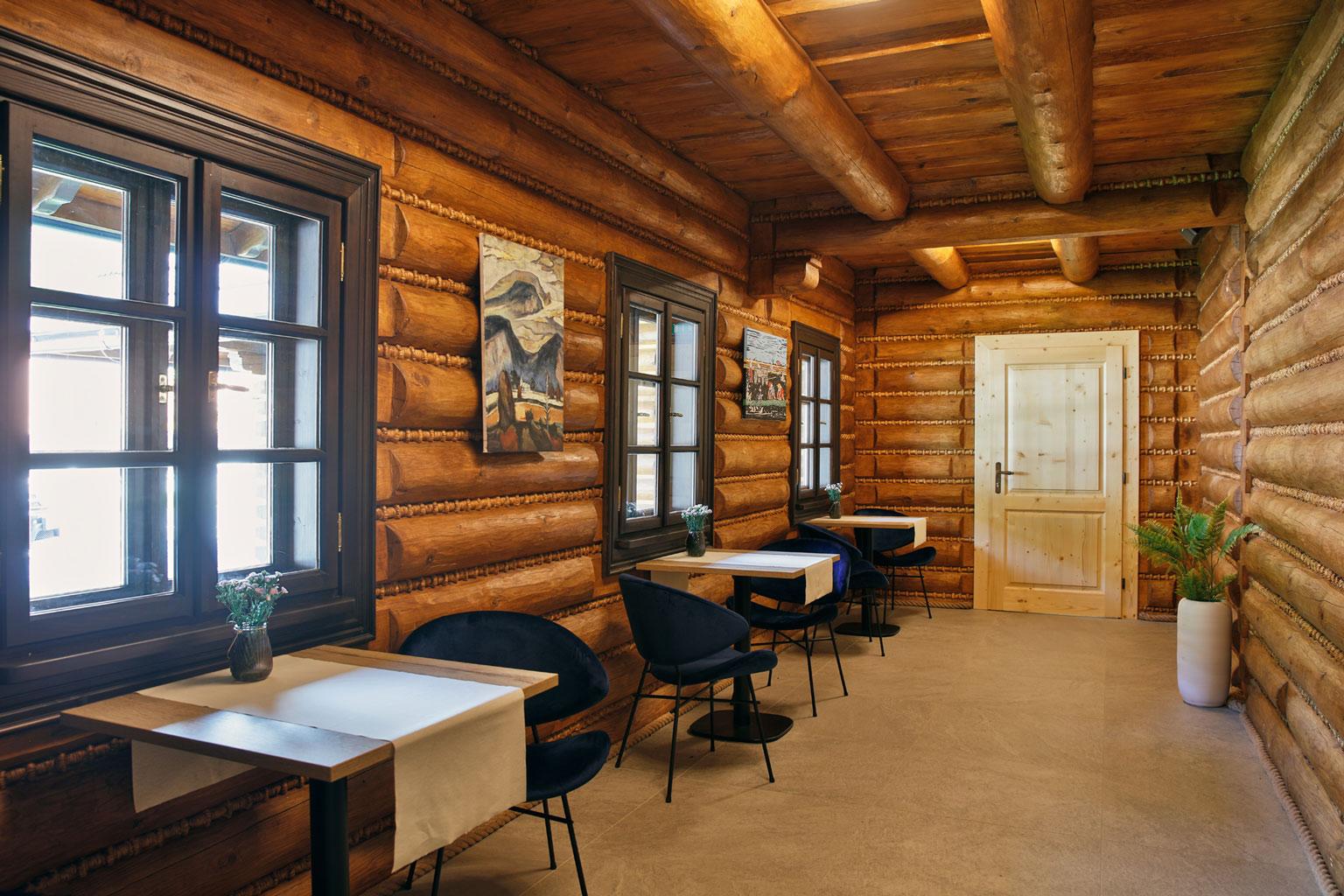 Private lounge
Capacity: 20 seats
Use: private groups: trainings, work lunch, meetings, degustation, family celebrations and etc.
The use of the private lounge and the seating options may vary. The saloon is a representative place, where you can have a private conversation with your company with good food. The room can be easily closed and we are planning to use it as a rum-cognac place for offering of degustation menu by a sommelier.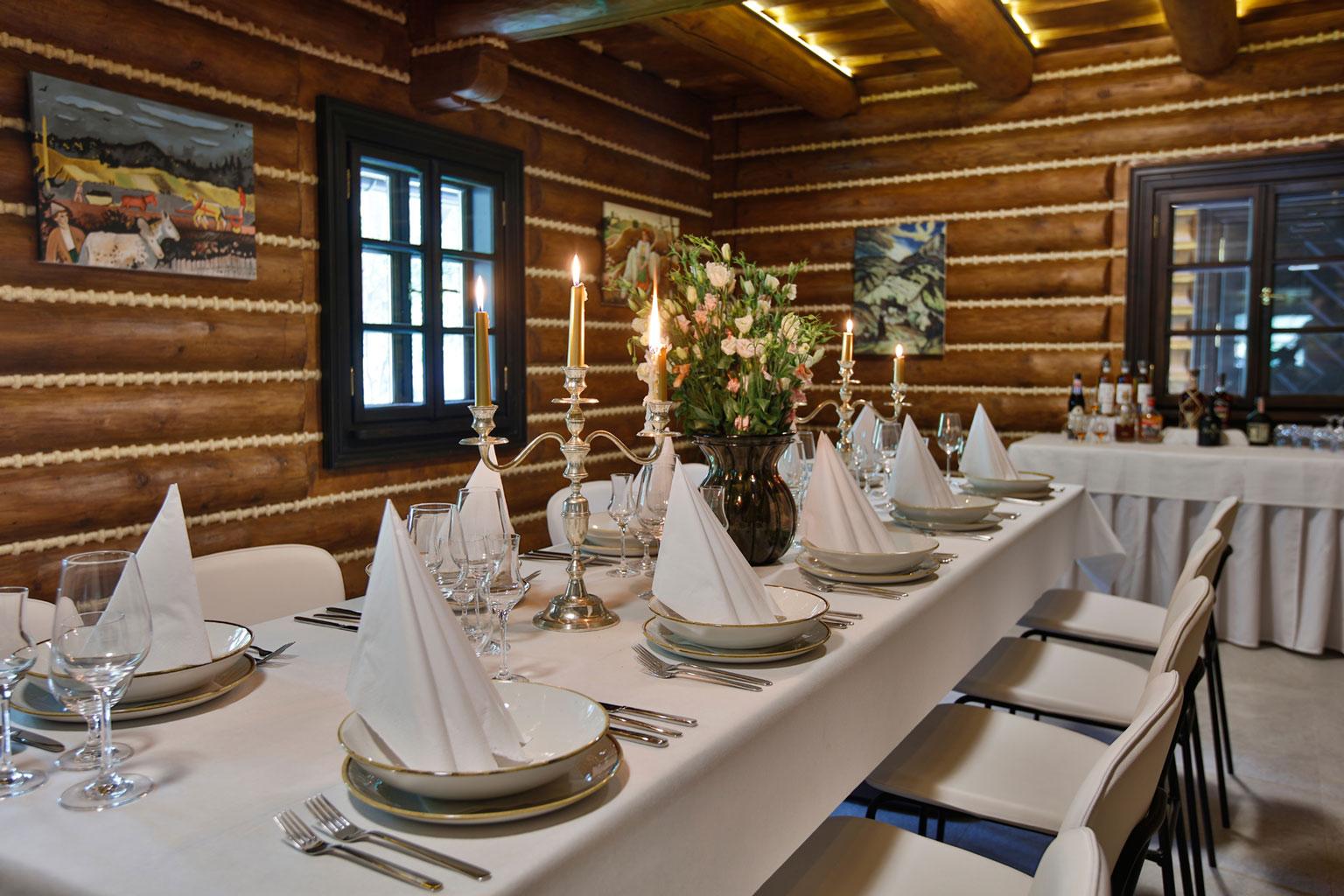 Gallery
Capacity: 24 seats
Use: place for having some wine in a pleasant atmosphere
You can get from the buffet section to a gallery on first floor, which is ideal for having wine in the evening hours. We will serve you also good music and accessories such as crystal chandelier, tiled roof and solid wooden lowered roof will only become a cherry on the cake in intensifying noble style.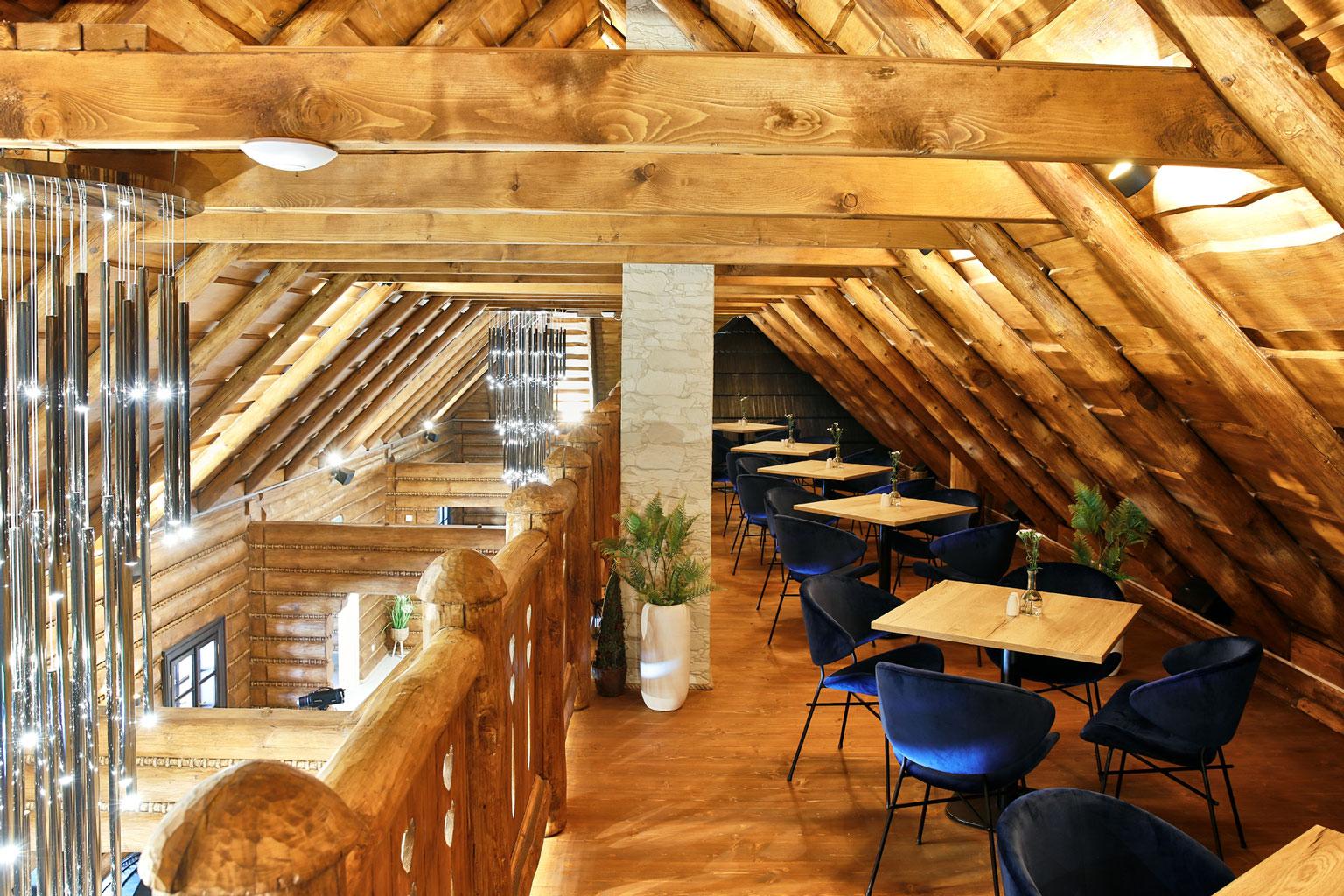 Outside summer terrace
Capacity: 32 seats
Use: seating on a fresh mountain air for accommodated guests and by-passers.
A good traditional Slovak food tastes best with view on Slovak mountains. Hence the terrace is available to you in Gothal resort always when the weather allows it – usually from April/May to September.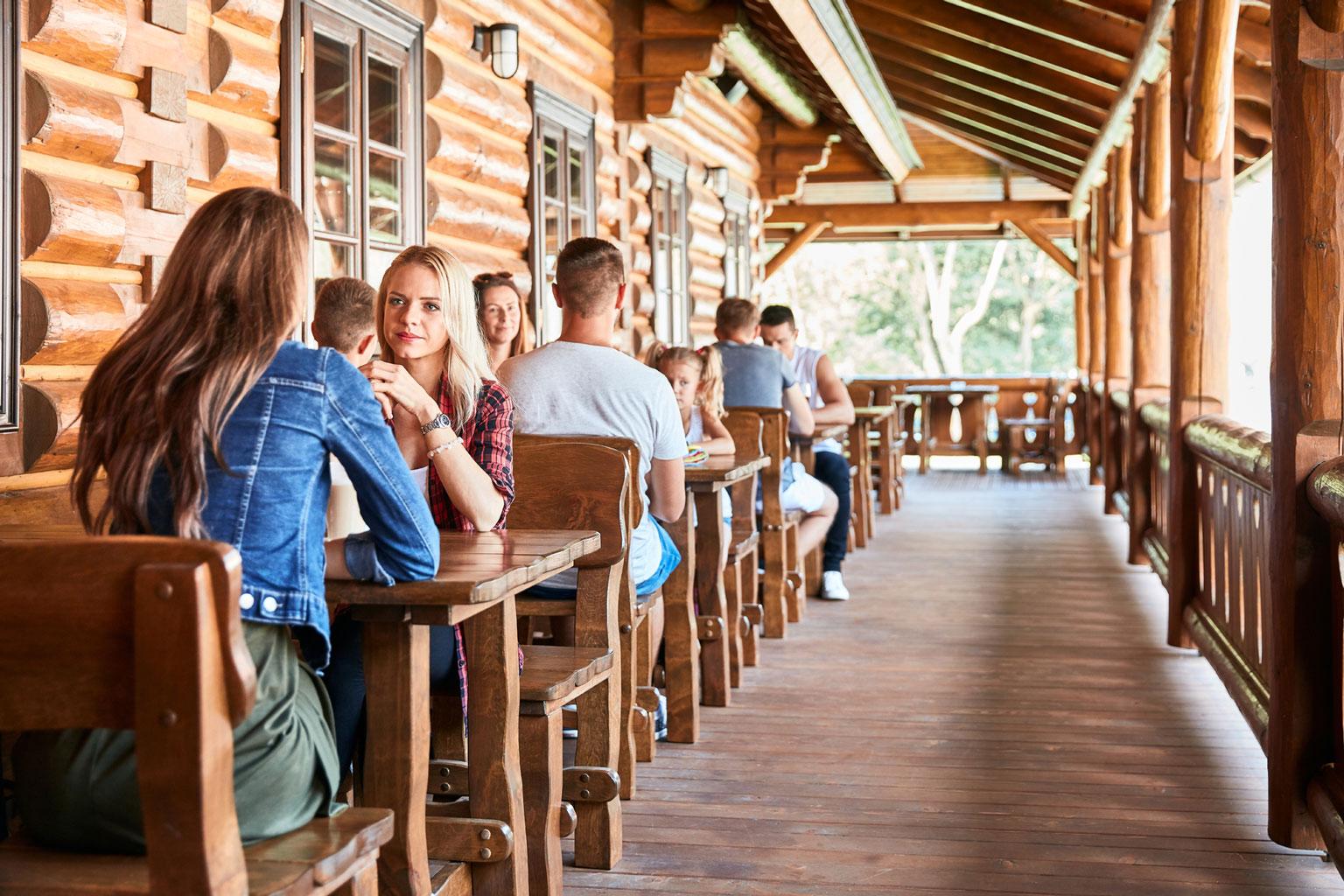 Secret of our cuisine
It is never easy to put up a good team, but we believe that we did a great job.
Chef
The cuisine of Koliba Liptov is led by an experienced Chef and a man born in Liptov, who knows precisely how a good traditional food from Liptov shall taste. He is also not afraid of biting into exotics. Thanks to his experience in France, England, Italy, Thailand and Asia in general, he can combine Slovak food with modern foreign gastronomy like hardly anybody. Our Chef is very close to traditions and traditional food of our grand-mothers, but he enjoys complementing them with new technological processes. Food that you enjoy around the world can also be found here in Liptov: confit, souis-vide and etc.
Chef´s team
The whole kitchen is a big challenge even for the best Chef, if he does not have a reliable team alongside him. Therefore we have put strong emphasis on experience when selecting our team. You can recognise many of our cooks from our restaurants Vlnka and restaurant Smrek.
Kitchen
Fantasy has no limits in our kitchen in Koliba Liptov. The Chef together with his team not only completes the recipes, but also creates them. The fundamental ingredient of our food is freshness. If you want to taste a genuine Liptov, you are at the right spot. Auntie Zdenka is also part of the team, who will prepare authentic home-made dumplings, pierogi or potato dumplings with love based on traditional recipe from local ingredients. We do not recognise ready-to-cook meals. We are an honest Koliba! Just come and taste specialties such as beef fillet steak, ram goulash or genuine Liptov dumplings.
A small taste of what we are preparing
​Still thinking, if you are going to stop by or reserve a weekend stay right away or a teambuilding training camp? Read further and let the following lines to persuade you.
Genuine home-made crunchy bread – as a side dish, you will always get freshly baked home-made potato bread prepared by ourselves. The offer also includes spelt, multi-cereal and leavened bread, which are served daily for breakfast but also along main courses.
Traditional food done by traditional means – we remain faithful to traditions also in terms of preparations of dumplings and pierogi. You shall not be afraid of getting unfrozen ready-to-cook meal on your plate. All traditional food is prepared by auntie Zdenka with love and hand-made. If you wish, she can also prepare gluten-free dumplings J
We are preparing an authentic rooster broth – those that tasted home-made broth know, that there is nothing beyond it. Therefore, our menu includes a strong rooster broth with hand-made egg noodles, which will warm you up after a good trail.
Freshly baked desserts – after an exhausting sport performance in Gothal resort or its surroundings, you deserve a sweet reward. And in this case you can look forward to our deserts which are prepared directly in our kitchen. Whether these are our traditional doughnuts with various types of cream and jams up to cheesecake or home-made yeast pastry.
Quality and local supplies are obvious for us – we always choose quality flour for bread, fresh eggs and dairy products. We look after the quality when choosing the ingredients, when they are delivered as well as during their storage. That is why most of our suppliers are local small businesses in the neighbourhood. Whether it is milk, meat or fish – we always strive to support local businesses and develop good relations.
Menu for the whole family – we also follow the rule – everybody has a different taste. Therefore we think not only about those who enjoy a well smoked fish, but also about kids, who prefer classics. Mothers may enjoy also our second rule, which we follow – no artificial food dyes, aromas and flavouring. When preparing food for your family, we always think about freshness and nutrition values of food.
Our rich wine card also stands a chance and we are recommending you a plate of attractive cheese specialties.
So what? Do you feel like visiting our Koliba Liptov after reading the text above? We are looking forward to seeing you :-)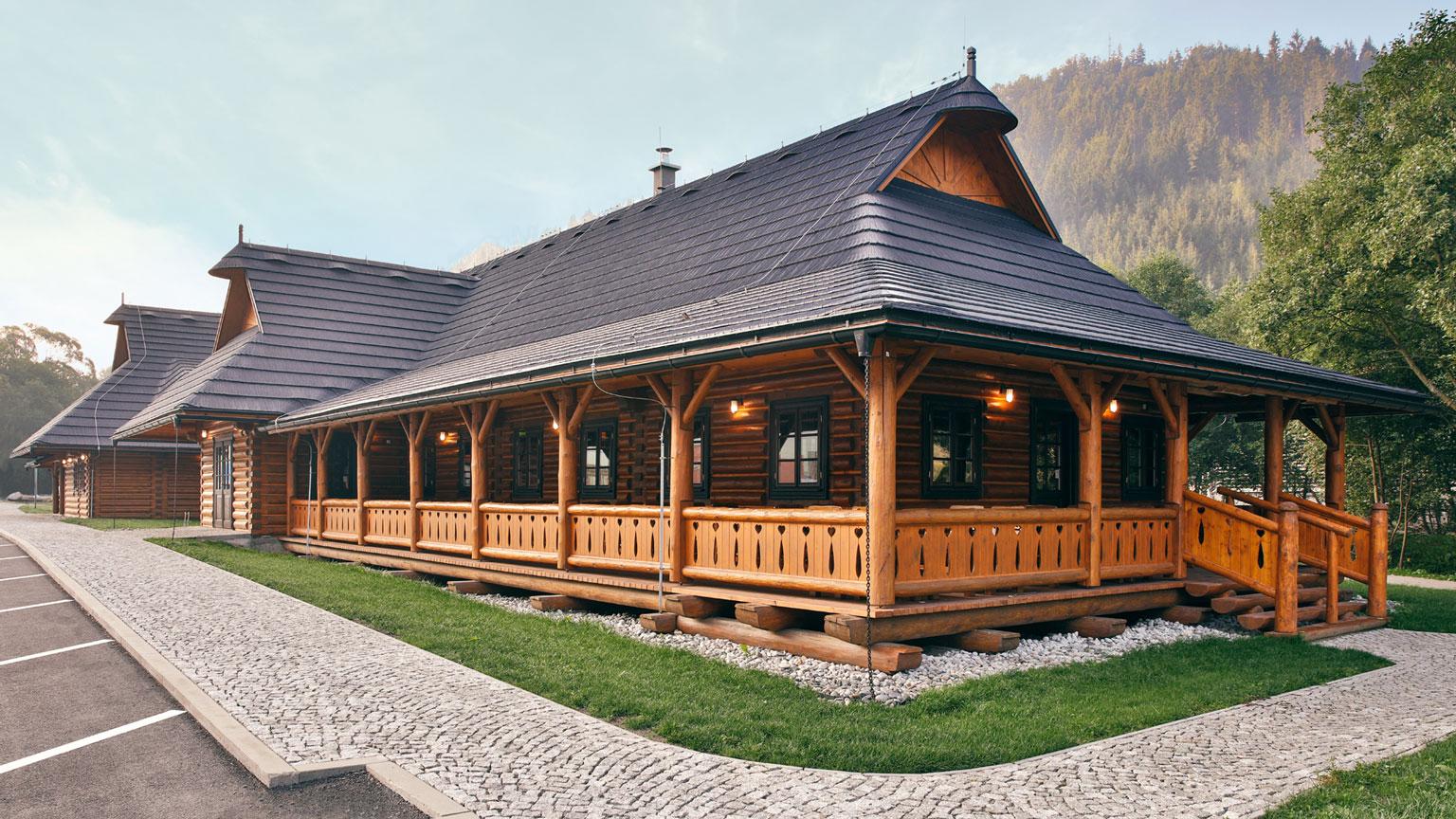 Koliba LIPTOV is located on the right side of the main road in direction to Liptovská Lúžna. A large parking lot is in front of Koliba Liptov.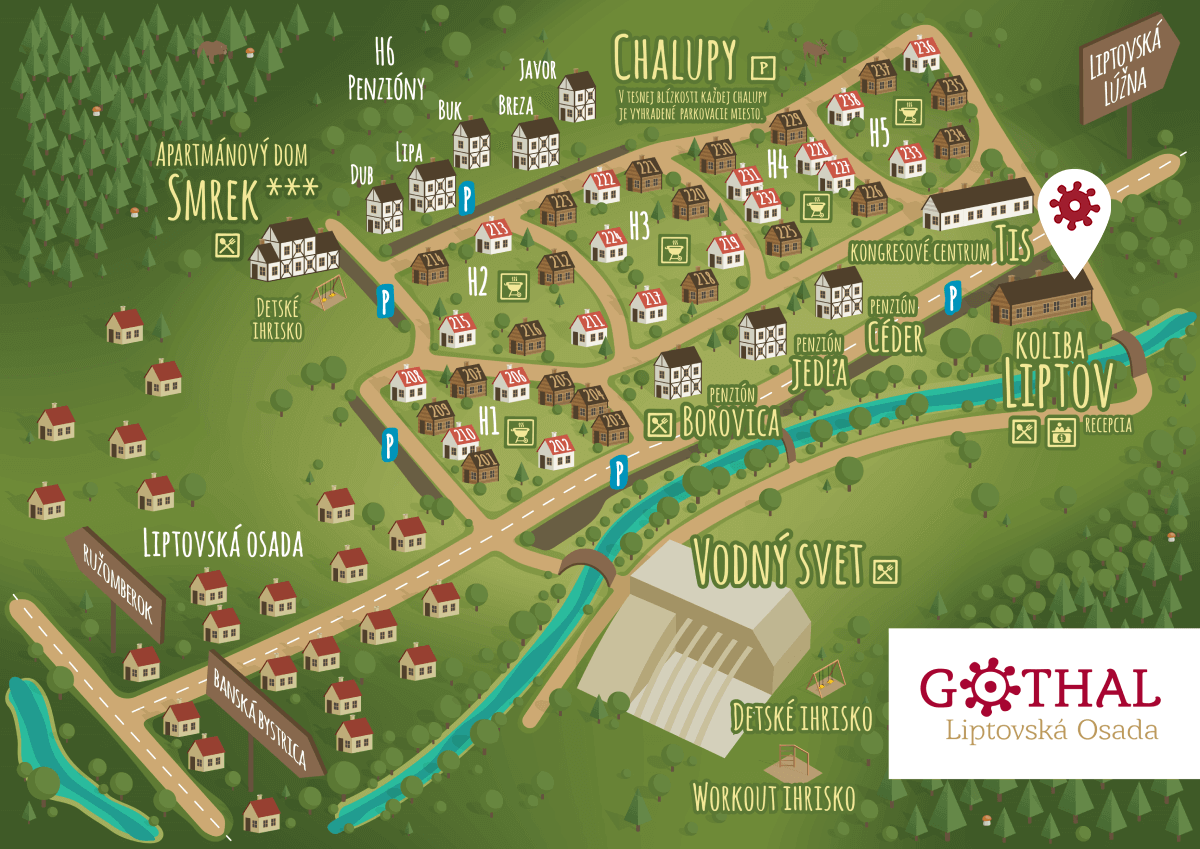 The restaurant is accessible not only to closely accommodated guests in Apartment house Smrek and adjacent traditional chalets, but also to visitors of Water world. The by-passers, the curious ones or drivers, who are just passing this direction, just need to turn from the main road and can look forward to a good food.
For table reservation, please call +421 945 44 55 44.
If you want to reserve Koliba premises for company or private events, wedding or other occasions, please contact our event manager by mail at eventy@gothal.sk or by phone at +421 905 475 475.